University of Manitoba Nursing: Overview
Arry Pandher -
April 26th, 2022
Written by Stephanie Pugh and Matthew Tran
Nursing is a rewarding and arduous profession! At the University of Manitoba Nursing program, they recognize the critical role nurses play in providing high-quality, compassionate care and ensuring patient safety. With a career that can take you into clinical practice, education, research, leadership, and policy change, they're here to help you on your way to a job that makes a difference every day.
Interested in the University of Manitoba Nursing? Want to know more about the program? Keep reading and we'll tell you everything you need to know about this amazing nursing program!
Why Choose the University of Manitoba Nursing?
Experiential Learning In their hospital and community simulation labs, you will gain hands-on laboratory experience while studying advanced learning methods and equipment, including cutting-edge patient simulation technologies.
Student Experience You can create your own university experience on a culturally diverse campus. There are resources available to help you feel supported every step of the way, whether you're trying to connect with like-minded people or take time to stay physically and psychologically healthy.
Scholarly opportunities The broad spectrum of research interests in the Faculty of Nursing has an impact that may be observed in all daily lives, from a child, youth, and maternal health to driving change in population health.
Community Connections The University of Manitoba's alumni network gets larger and more diverse every year, which is why it's critical to stay connected and share your experiences. There are a variety of ways to get involved with the College of Nursing, and you'll be sure to find something that suits your interests.
Professional opportunities for Bachelor of Nursing graduates
Clinical nurse specialist
Health care policy analyst
Registered nurse
Consultant
Public health nurse
School nurse
Travel nurse
Researcher
Admission Requirements
The minimum prerequisites for admission to the Bachelor of Nursing programme are as follows. Acceptance into the programme is not guaranteed if you meet these conditions.
The Nursing programme is an advanced entry programme, which means that even if you already have a degree, you must finish at least one year of university-level study, including numerous necessary and recommended courses, before being considered for admission.
We encourage you to review the Nursing advanced entry admission requirements, it provides details on:
Required courses for admission
Adjusted Grade Point Average (AGPA) calculation and requirements
Written English and mathematics requirements
Humanities, Social Sciences and Science electives
Transfer credit
Applying as a student from another institution
Advanced entry admission requirements (PDF)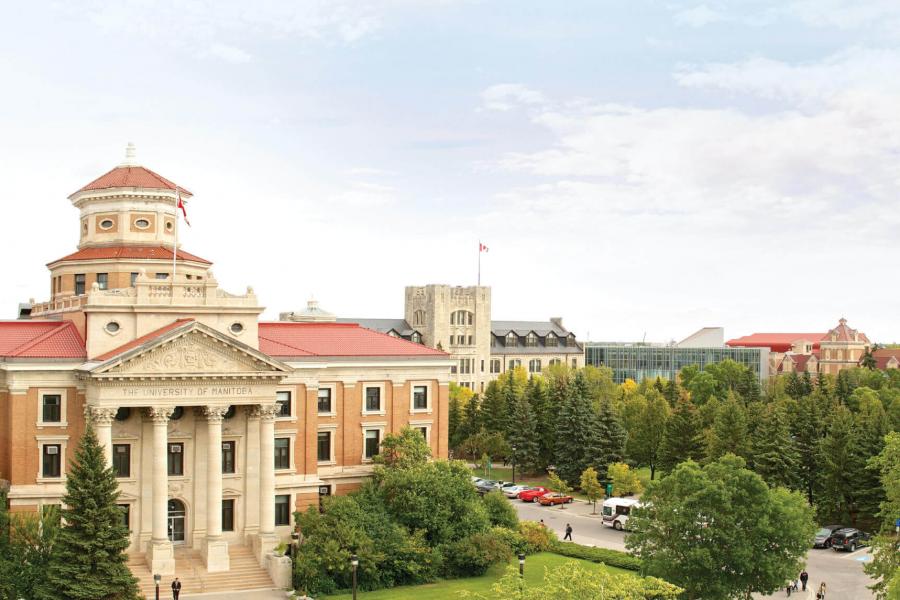 How Much Will the University of Manitoba Cost?
The estimated tuition amount for undergraduate Nursing students is approximately $5,900
per year for domestic students, and $19,600 for International students.
Fees and costs are estimated. Your actual cost of attending university will depend on many factors in addition to the program of your choice. For complete fee details visit Undergraduate tuition and fees.
Nervous about tuition costs? Don't fret, the University of Manitoba issues more than $20 million to students each year in the form of scholarships and bursaries! Find out how you can access funding so you can focus on your studies by going through the scholarships on this award database!
Looking for Support in Applying to the University of Manitoba Nursing?
Scholarships, one-on-one guidance, and student support services are all available through GrantMe. Countless students have used our services to get into their top-choice schools and graduate debt-free!
If you'd like to know more about how GrantMe can support your goal of getting into U of Manitoba, start by taking our quiz to see if you qualify!